Watkinson hosted its second virtual Alumni Panel in February. Our three alumni, who represent unique sectors of the mental health industry, joined a group of seniors via Zoom and answered questions, shared their wisdom, and told stories about their most rewarding and most challenging experiences in their careers.
Have a great story to share?
Want to participate in an alumni panel?
Contact Alumni Relations Director Kristen Gordon.
The panelists included:
David Gallagher '98
Licensed Clinical Social Worker
Joy Nirenstein Radish '98
Psychotherapist and Drama Therapist and Director for Witness Theatre
Ramya Chunduri '14
Clinical Oncology Social Worker at Memorial Sloan Kettering Cancer Center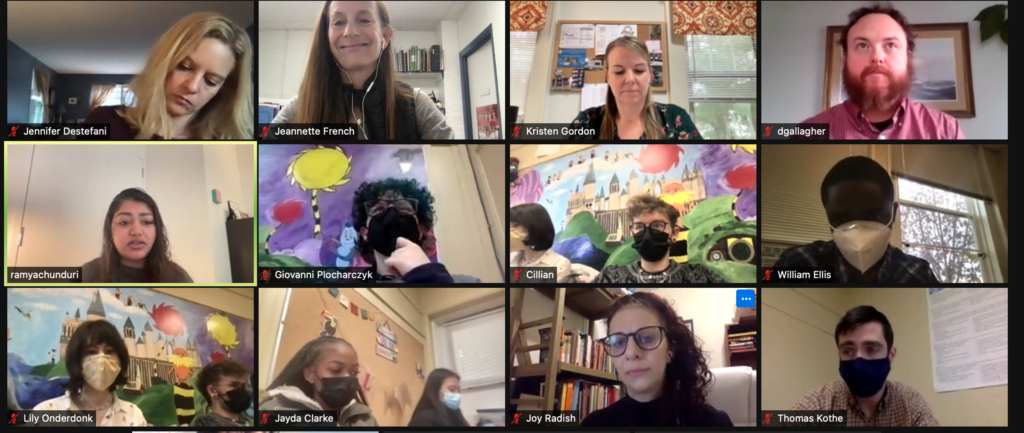 Ramya opened the discussion by sharing that the most meaningful aspect of her work, "…is being able to be with patients and clients during their most vulnerable time.  Being trusted to be a confidant is an immense privilege and provides meaning to every day. I enjoy end of life, bereavement work for that reason."
Amidst the backdrop of the global pandemic, mental health issues are on the rise in every demographic. Regarding current trends, Joy said, "The pandemic proliferated a trauma-centric model of mental health, versus a biomedical model.  Right now, training is all about mental health being developmentally contextually, meaning events in people's lives cause disease or mental illness.  Whereas, the old theory was that mental health was genetic.  Bringing mental health into a social context destigmatizes everything. It lets us look at the whole person.  Emphasis on trauma allows us to bring in different modalities so it's not just old school talk therapy. There's more fluidity to it."
Dave works in the foster care system, which he describes, "…is a constantly evolving system. I am lucky because the nonprofit I work for takes the trend and adapts it into what is right for families. Emerging substance abuse is a huge issue for kids in foster care.  And it's an ever-changing landscape; just as we find something that works, the substance changes …which means we are constantly adapting."
All three see some of the stigmas attached to therapy eroding. Dave comments, "You hear more and more from celebrities about the impact of their lives on themselves…how the stress of notoriety, public scrutiny, and media pressure leads to depression and anxiety.  There seems to be more and more willingness to talk about it; it often comes out on social media."  
Ramya adds, "Awareness is more common because both people in power and your friends and neighbors are speaking up. It could be a 16-year-old on Instagram who has a million followers or it could be a casual conversation with a coworker.  Stories are being shared in books and movies too.  However, there is still a lot of labeling happening. Growth takes time. Social media therapists with no training are popping up. Mantras like "check in with your friends" – might be what you need, or it might not. The recent examples from Simone Biles and Kate Spade moved the dialogue forward, though in a messy way.  We see their stories after, not necessarily as they are going through their struggles. We aren't having those conversations as often yet…the stories in process still seem to be stigmatized."  
Joy offered, "One stigma still flying is the idea that willpower supersedes time and process, meaning you should have willpower to pull yourself out of something.  Online talk about self-healing could be interpreted as you should be able to do it by yourself.  Sometimes that isn't possible, even if you have access to digital tools. Healing or therapy doesn't happen overnight, often happens in community, relationally.  Therapy is often about the strength of a relationship with a therapist.  Society isn't always cool with that." 
"Yes," Dave adds, "Virtual therapy has exploded…it's OK, but in-person is better."