"Many SPHERE campers jump a full grade level in math and/or reading over the course of the program."
Watkinson's SPHERE summer program is a nonprofit, five-week tutorial program for 60-70 Hartford and East Hartford youth entering grades 1-5 held on our gorgeous campus in Hartford, CT. The program begins Monday, June 26, 2023 and ends Friday, July 28, 2023. 
The day runs from 8:30 a.m. to 3:30 p.m. with lunch and morning/afternoon snack included.
Mission and Goals
SPHERE successfully integrates educational hands-on activities and classroom academics with enriching summertime activities. The main goal of SPHERE is to provide a bridge between the end of the current school year and the beginning of the next year. Our program strengthens and grows foundational academic skills in a caring, fun, and intellectually-stimulating environment that emphasizes creative and recreational activities.
SPHERE classes are aligned with the Common Core State Standards in literacy and math. In addition, students receive science, art, and technology instruction. Our small classes provide personalized and culturally-relevant instruction that prepares the student for the upcoming school year.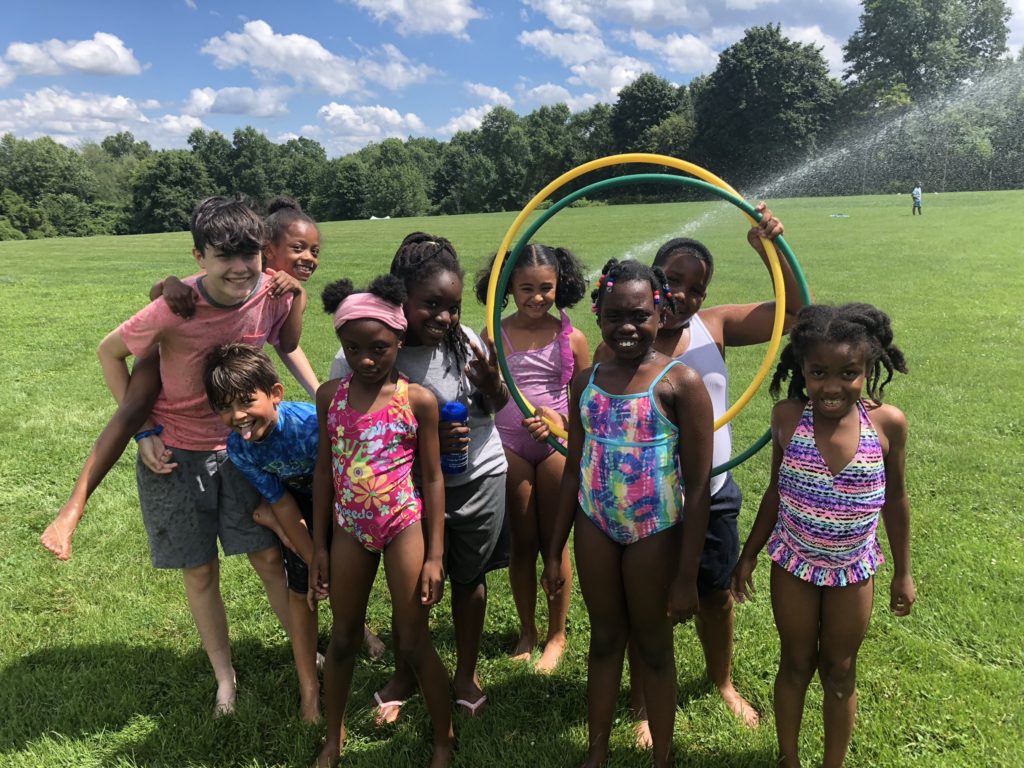 Trip to Connecticut Science Center and Children's Museum

Special Guest Readers and scientist from Watkinson School

Parent volunteer opportunities to share special passions/talents

All students work with computers to reinforce reading and math skills

Trip to Bushnell Carousel with a fun picnic

Daily half hour silent reading time

Counselor led activities

Weekly trips to 4-H Education Center at Auerfarm

Sprinklers on Fridays

SPHERE Olympics

And other surprises
Students are grouped according to grade level. Counselors and CIT's (counselors-in-training) are assigned to each group and stay with that group for the duration of the summer program. This creates a setting for the students to take risks in a safe learning environment. The staff provides in-class assistance, encouragement, guidance and redirection to the students.
Thank you to our 2022 Funders
Berkshire Bank Charitable Foundation
Ensworth Charitable Foundation
Charles Nelson Robinson Foundation
United Way
Want to know more about SPHERE at Watkinson?
Your application is complete when you have submitted all of the following:
Utility Bill to prove residency in Hartford and East Hartford 
Registration fee: The family must provide a non-refundable** $65.00 money order registration fee for the first child and $40.00 for each additional child. No personal checks or cash will be accepted.
Application materials are also available upon request by emailing sphere@watkinson.org or by calling: 860-236-5618 ext. 156.  
Applications for returning students have priority acceptance up to March 20, 2023. 
After March 20th, if openings are available, new students will be accepted on rolling basis until the program is full. Only completed application packets will be considered.
**If there is no longer available space at the time that we receive your application, your money order will be refunded to you.
For more information please feel free to contact sphere@watkinson.org or 860-236-5618.
We are looking for elementary school teachers and counselors who enjoy working with youth and are energetic and creative to join our staff this summer. 
If you are interested in a teaching position, please consult Watkinson's employment listings to read about our SPHERE Teaching opportunities. 
Applications for our Counselor Positions are below:
CIT (Counselor in Training) – Entering 9th and 10th grade
Counselor Application – Entering 11th or 12th grade or older
If you have any questions, please email sphere@watkinson.org
Donations: In kind contributions are much needed such as office supplies, arts & crafts, sports equipment. Some of the items on our wish list include, jump ropes, hula hoops, frisbees, basketballs, footballs, Nerf balls, kick balls, 1-5th grade reading books, board games, pencils, notebooks, erasers, crayons, markers, writing paper, glue, paint, sidewalk chalk.