Beginning to
become yourself
"I don't know how to explain it. It's just... everybody is themselves here."
"The first time we stepped foot on campus, we knew we had a very different thing going on here."
Alumni Parent, West Hartford
"The final goal is to have some comfort in your body being present on stage... How do you stand up there and not be a mess?"
Grade 7 Performance Studies
"I think the biggest thing I was afraid of was not being able to connect to the students here."
"He's excited to come in every day. Just not having all the drama and the negative things that we were worrying about — having that disappear — has been just amazing."
Parent & Teacher at Hartt Community Division
Grade 6: The interdisciplinary water unit
During the spring trimester, the 6th-grade science students participate in a service-learning project aimed at protecting the North Branch of the Park River. They determine the water quality of the river using benthic macroinvertebrates as pollution indicators. Students then follow the river north into Bloomfield to stencil storm drains with the message, "Dump No Waste, Drains to River" and distribute student-designed educational fliers. They also write and illustrate children's books to teach younger children about the connection and importance of the Park River, Connecticut River and Long Island Sound. This project has been an integral part of our curriculum for the last 8 years.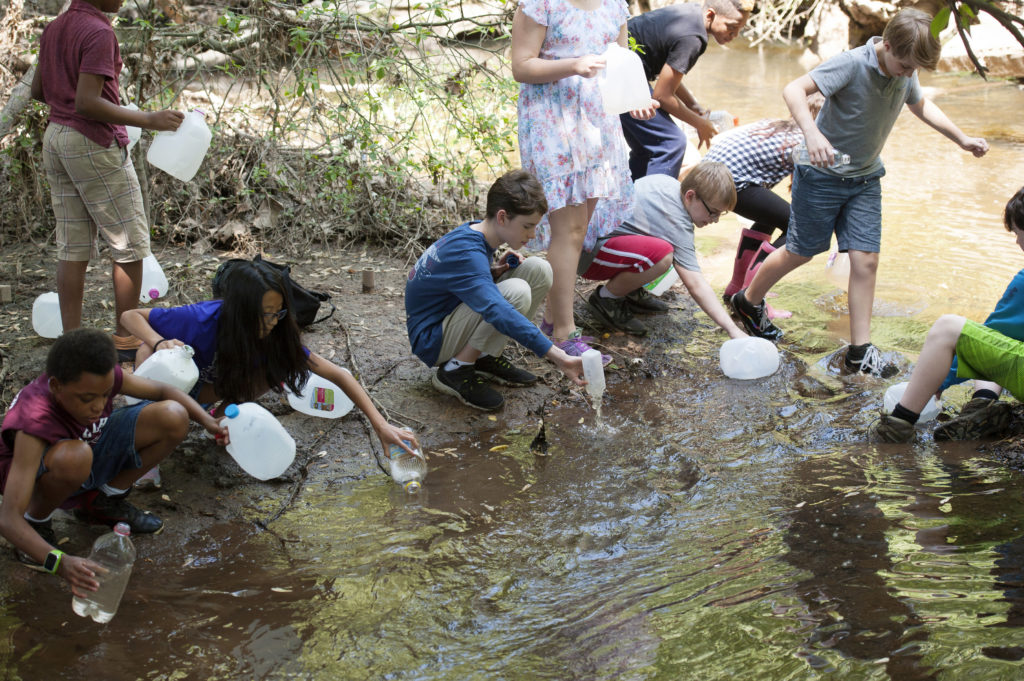 Grade 7 Coming-of-Age Project
During this formative year, students in English class explore the essential question: What does it mean to "come of age"? Through numerous novels focused on this theme, as well as narrative writing about moments in their own lives, students gain a greater sense of this important life question. Projects such as a six-chapter Book of Self, as well as an interdisciplinary art project that combines metaphorical poetry and window decorating, allow students to explore the figurative world and transition from that of child to young adult.
A year-long process where students evaluate themselves as learners through the lens of Watkinson's Essential Skills (Communication, Critical Thinking, Literacy, Problem Solving, and Expression) and create individual presentations that incorporate and demonstrate their findings. Students receive one-on-one coaching throughout the process and share their work during Exhibition Roundtables each May with their parents, teachers, their peers and 7th graders.